8 Rules for Writing broadside
by Neil Gaiman, Engravings by George A. Walker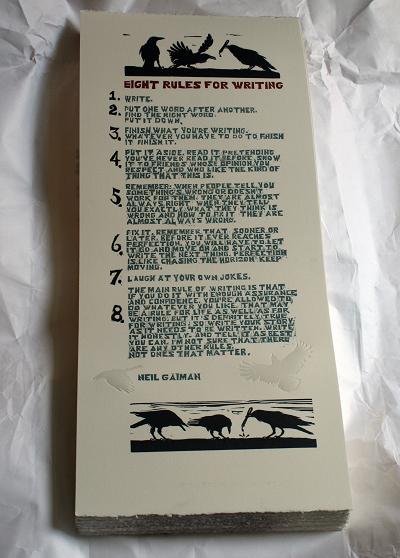 Formats
Format: Broadside signed by Neil Gaiman and George Walker
Price: $80.00 + shipping ($20 for international shipping or $10 for domestic shipping)
Number of Copies: 251
Availability: SOLD OUT


Additional Images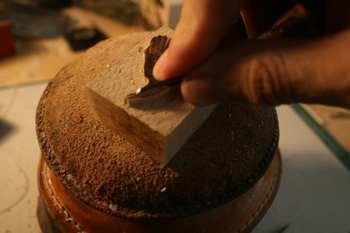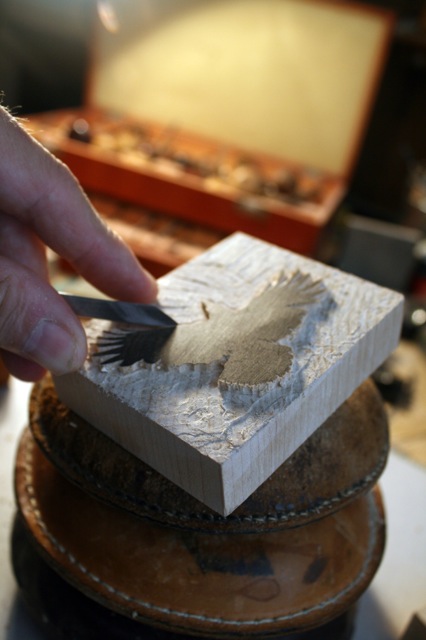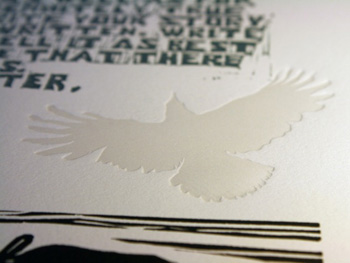 Summary
The Gaiman broadside titled "Eight Rules of Writing" was printed in a limited edition of 251 copies on a Vandercook SP15 proof press. The paper is 10" X 22" Stonehenge Rising white 250gm with a deckle edge on the top and bottom edges. This paper is machine-made in the United States, from 100% cotton fibers and is acid-free making this an archival print suitable for framing. This print will give the owner years of enjoyment free of fading and decay that is the usually the fate of most pulp papers made from trees.

The inks used were Van Son and Hostmann & Steinberg oil based and rubber based inks and overprint varnish.

The typefaces were carved by hand out of birch faced plywood and battleship linoleum.

The artwork was created by engraving on the endgrain of maple wood and carving battleship linoleum which was mounted onto 3/4" plywood. Five impressions (individual times hand fed through the press) were made for each color making a total of over 1,500 impressions including proof and set-up sheets used in the registration process. Two tones of black were used in the printing of the ravens. The top ravens are in red black and the bottom ravens in charcoal black. The text color was hand mixed using a variety of inks including a silver based letterpress ink.

There are eight ravens pictured in the broadside. Six of them are in black and two are embossed into the paper making them almost invisible. This is intentional. Two of the qualities of good writing are almost always invisible. Just because we cannot name them doesn't mean they are not there working in the background.

The raven as a symbol for the author and the task of writing extends beyond the obvious comparison to Poe and his poem of the same name. The raven's intelligence is possibly its most wondrous feature considering that these birds can be trained to speak. "Nevermore" was the ominous work spoken by the raven haunting Poe.

The raven is often heard to caw a sound that resembles "cras." The word cras is tomorrow in Latin and that is what most writers struggle with – putting off what they could do today until tomorrow. The raven is both a warning and an inspiration.

The raven's symbolism also embodies wisdom and knowledge. All these things are useful to writers who are honing their craft. In Norse mythology the god Odin has two ravens Huginn and Muninn that serve as his eyes and ears. Huginn represents thought while Muninn symbolizes memory – they are constantly advising Odin and he heeds their advice . Both of the attributes of memory and thought are necessary for good writing. There are many more things that link the raven to writing but part of the fun of the broadside is to leave some of the mystery for discovery by others.