The Transformed Mouse
by Jack Ketchum, Engravings by George A. Walker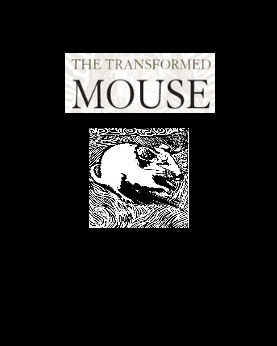 Formats
Format: Book Format #1: Book - Numbered edition
Number of Copies: 250
Price: $100.00 plus $10 UPS insured shipping
Availability: ???

Format #2: Book - Lettered edition
Number of Copies: 26
Price: $225.00 plus $10 UPS insured shipping
Availability: SOLD OUT
Additional Images
Images from the book
Summary
Here's something new and totally different from the delightfully warped mind of Jack Ketchum.

THE TRANSFORMED MOUSE: A FABLE

That's right, folks, a FABLE! One for adults, though, adapted from the Indian 2nd Century A.D. PANCHATANTRA. And unless you're afraid of the elements, or of mice, there's nary a scare in it. Just good wacky fun.


---

Written by Jack Ketchum with wood engravings by George Walker and an introduction by Nancy Collins. Signed by all contributors.

The numbered copies will be limited to 250 copies, all hand made, bound in suede. The book will be hotstamped on the front with a mouse's tail hanging out that can be used for a page marker. This book will retail for $100 plus $10 UPS insured shipping. All the prints are woodcuts printed on Japanese paper.

The lettered edition will be traycased, bound in Japanese silk with a hand drawn sketch by George Walker on the inside page. Limited to 26 copies A-Z. This book will retail for $225 plus $10 UPS insured shipping.