The Facts in the Case of M. Valdemar
by Edgar Allan Poe, Engravings by George A. Walker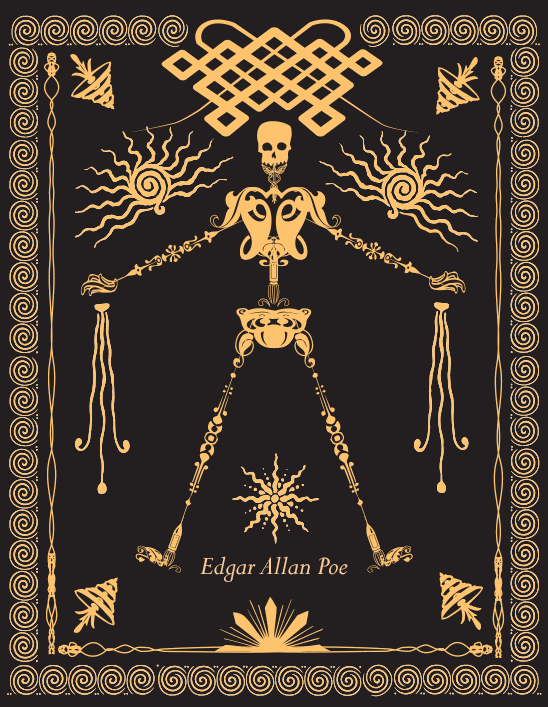 Formats
Format #1: Book - Regular edition
Number of Copies: 60
Availability: SOLD OUT

Format #2: Book - Boxed edition with deluxe slipcase
Number of Copies: 10
Availability: SOLD OUT
Additional Images
Finished Valdemar book

Boxed edition with deluxe slipcase

George working on engravings for the book
Summary
This fine press book is crafted by hand, using the finest letterpress printmaking techniques. Letterpress is a relief printing process.
It involves locking moveable type or plates into the bed of a press, inking it, and rolling or pressing paper against it to form an impression. It was invented by Johannes Gutenberg in the 15th century and remains in wide use for the printing of fine books and art. In addition to the direct impression of inked type, letterpress is also used for the printing of artists' blocks such as wood engravings. This book is illustrated with two hand cut wood engravings and several hand printed polymer plate mandalas.


A Rare Story by Poe
When Edgar Allan Poe first published The Facts in the Case of M. Valdemar in December of 1845 many people believed it was a true account of a medical experiment. Some have suggested it is the first modern zombie story. The story first appeared in The Broadway Journal, a New York periodical that featured literary reviews and critiques of Art, theater, and music and political commentary as well as some poetry. Poe had been a regular contributor to the Journal since its inception by Charles Frederick Briggs and Jon Bisco. It is also important to note that The Broadway Journal was purchased by Poe the same year that The Facts in the Case of M. Valdemar appeared and it was the only magazine that Poe ever owned and operated but it only lasted until January 3, 1846 when Poe announced, "Unsuspected engagements demanding my whole attention, … I now, as its editor, bid farewell - as cordially to foes as to friends." The Facts in the Case of M. Valdemar was published simultaneously in the December 20, 1845, issue of the American Review: A Whig Journal with the title The Facts in M. Valdemar's Case. This same journal was the first to publish Poe's The Raven but it too ceased operations due to financial stress in 1849, coincidentally the year of Poe's death.

This is your chance to own a fine press edition of this rare short story by the master of the macabre. Order your copy soon as these 60 copies will go quickly and there will not be a reprint of this edition.